It's now Year Two without Jason Witten in tow, and the Dallas Cowboys still don't have an answer at the tight end position.
Things did begin looking upward on the back end of the 2018 season though, but the unit was easily the most inconsistent of them all in 2018. With the security blanket of Witten now gone from the bedding of quarterback Dak Prescott, it was time for another to step up and fill the gaping hole atop the depth chart. That never happened, and despite carrying four at the position last season, the Cowboys were only able to muster 701 total receiving yards from the group to go along with four touchdowns.
Even more disturbing is how three of those four TDs came in one game, leaving just one for the remaining 15 regular season outings — with none scored in the playoffs.
To say there is room for marked improvement is a much akin to saying the surface of the sun is a tad balmy, but the Cowboys will again look to tweak the position. Their first go at doing so will be in NFL free agency, and there are already names available they should and will be interested in.
You'll likely only hear about one in the news cycle, but allow me to reveal several more that would fit the bill, and possibly in better fashion.
__
TYLER EIFERT: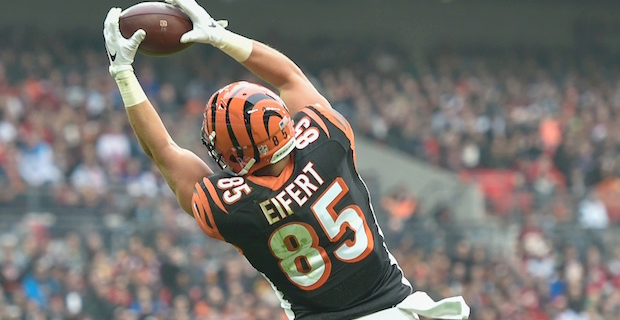 Age at 2019 kickoff: 29
Height: 6'6″
Weight: 255 lbs
Returning from Injury: Yes
Pro Bowl Tally: 1
All-Pro Tally: 0
Stat Line:
__
Jaylon Smith tweeted him an eyeballs emoji and he liked it, which means Eifert will definitely end up playing for the Cowboys, right?
That's not how this works. That's not how any of this works.
Nothing stokes the flames of free agency like one player recruiting another, and you can pour some additional kerosene on the fire by way of Eifert being the brother-in-law to Cowboys' All-Pro guard Zack Martin. None of those things will be negotiating tools should the Cowboys opt to pursue Eifert, but it does appear to be in their plans to do so. The team has already begun doing their "homework" on the pro bowler, according to Bobby Belt of NFL Network, and will undoubtedly reach out to Eifert to get a feel for his asking price. What they won't do is pay him commensurate with the numbers he achieved way back in 2015, however, especially seeing as he's suffered from injuries that have derailed his last three seasons — playing in just 14 games and having only four starts in the process.
What's more, the Cowboys are deathly afraid of back injuries, and Eifert saw both 2016 and 2017 ended by one. The Bengals gave him one last shot on a one-year deal in 2018, but he broke his ankle in Week 4 and never saw the field again.
The talent on Eifert is undeniable, but this is a ton of risk to consider on a player who is sniffing 30 years of age. If the Cowboys choose to pull the trigger and he can remain healthy, it's a perfect bridge to both land instant production and mentorship for both Blake Jarwin and Dalton Schultz — with the jury being on out Rico Gathers — but if they do and he can't, it's a waste of a free agency trek at the position.
As it stands, Eifert is simply Geoff Swaim — health-wise — with a lot more talent. It would either be a home run signing, or one the Cowboys will be taken to the woodshed in a few months.
There will be no in-between.
__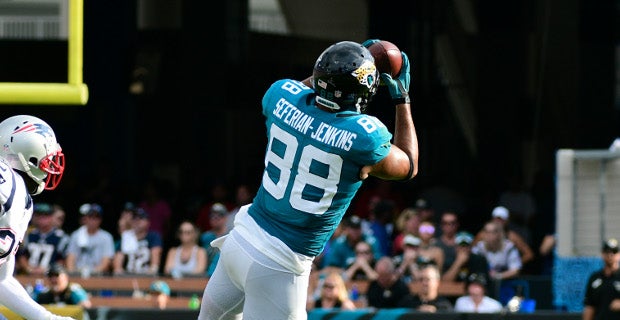 Age at 2019 kickoff: 26 (27 on Sept. 29)
Height: 6'6″
Weight: 262 lbs
Returning from Injury: Yes
Pro Bowl Tally: 0
All-Pro Tally: 0
Stat Line:
__
The experiment at the tight end position needs to be put to bed for the Cowboys this season.
Things could not have been messier in the wake of losing Jason Witten to retirement last year, with the team carrying four tight ends en route to the unit having negligible impact over the course of the season. There was an anomaly here and there, most notably seen in the breakout game by Jarwin in Week 17, but more often than not the Cowboys found themselves lusting for meaningful production from Geoff Swaim, Jarwin, Schultz and Gathers. With Swaim coming off of another injury-riddled season and now a free agent, bringing him back would make sense only if the team didn't have another viable option in free agency.
Seferian-Jenkins could be that option, having delivered much more over the course of his NFL career than has Swaim, and he won't cost much after being released by the Jaguars this offseason. Like Swaim, Seferian-Jenkins finished last season on IR but he reeled in 357 receiving yards and three TDs in 2017, and has 824 more career yards and 10 more career TDs than does Swaim. What they crave is production from Jarwin and Schultz, with the jury being out on if they're ready to call it a day on the Gathers' project. Seferian-Jenkins in a reduced role protects his durability, and gives the Cowboys guaranteed production without holding back the youth movement.
At 6-foot-6, 262 lb., he's also a rather large red zone threat, and the Cowboys definitely need to establish one in 2019.
The question remains, however, is he truly that much more reliable than Eifert?
The interest should be there, but the cost must be realistic.
__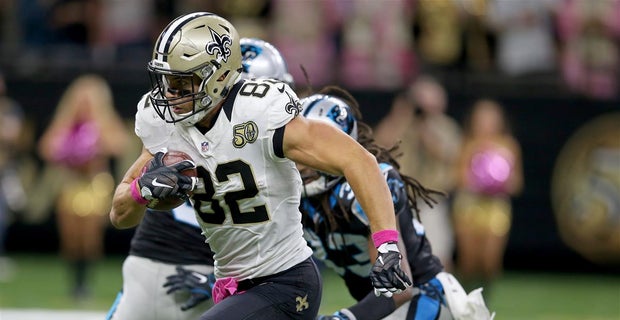 Age at 2019 kickoff: 30 (31 on Sept. 20)
Height: 6'6″
Weight: 251 lbs
Returning from Injury: No
Pro Bowl Tally: 0
All-Pro Tally: 0
Stat Line:
__
Fleener is a 30-year-old with at least one or two years of tread left on his tires, and a former second-round pick who entered the NFL with All-Pac 12 honors in 2011.
He took a step back in 2017 due to a concussion, but delivered 631 yards receiving and three TDs one year prior. His catch percentage of 73.3% in 2017 was a career-best, however, and for a Cowboys' team that has suffered more than its fair share of drops — Fleener would instantly have one the best pairs of hands on the team. Like Seferian-Jenkins, he could mentor the youth movement while also being a more-than-viable production option in 2018 and potentially 2019, and wouldn't cost much at all.
You'll find a more attractive name in someone like Eifert, but the former Bengals' star has played a total of six games in the last two seasons and has only four starts in his last three combined. There's no denying the talent of Eifert, but it's also pointless to sign a player who may not finish the season. Contrarily, Fleener has only missed nine games in his entire NFL career outside of sitting out 2018 due to having not been signed, which ironically adds a year to his durability.
Considering he can also be obtained on a veteran minimum salary, it's a win-win on all levels.
The con is he'll have to knock off some rust, but that's what offseason conditioning is for.
__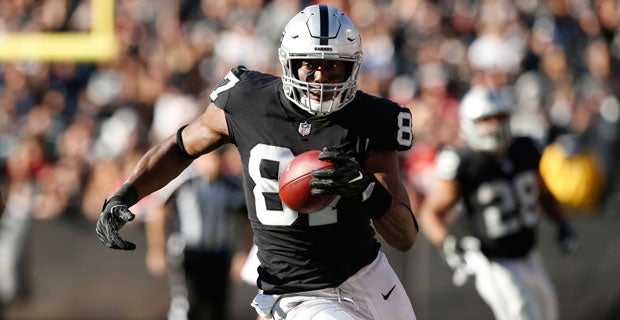 Age at 2019 kickoff: 32
Height: 6'5″
Weight: 248 lbs
Returning from Injury: No
Pro Bowl Tally: 1
All-Pro Tally: 0
Stat Line:
__
If it's both production and durability the Cowboys are looking for (and they are), Cook would obviously be a better signing than Eifert.
Those two attributes will inevitably come at a higher cost, but NFL teams would rather pay more for guys who remain healthy than a little less for those who they'll only see 25% of the season. It could be argued that even with the raised salary want, there's a ceiling on what Cook would accept considering he's already in his early 30's. It's a no-brainer to ring his telephone though, because he's delivered 1,584 receiving yards and eight touchdowns in his last two seasons, excelling in the otherwise disastrous offense of the Raiders. Also as sure-handed as they come, you won't find Cook putting many passes on the ground, and that would certainly help when Dak Prescott becomes uneven in games from an accuracy standpoint.
Wondering what Cook can truly do?
Well, take a look at Week 1 from the 2018 season when he racked up 180 receiving yards.
The Raiders went on to lose because that's what the Raiders do, but Cook reminded the entire NFL he can be one of the most dynamic receivers for any team. With the resurgence of former teammate Amari Cooper in Dallas and the young upstart Michael Gallup flanking him, opposing defenses would be hard-pressed to guard all three and still account for whomever is in the slot along with two-time NFL rushing champ Ezekiel Elliott in the backfield. The problem comes via the unknown within the Cowboys' offense though, because they have routinely not been able to take advantage of high-powered tight end talent.
With longtime offensive coordinator Scott Linehan now gone and Kellen Moore looking to be more creative, maybe that'll change going forward. Assuming it does and that includes unleashing the TE position, especially in the red zone, I'd rather pay more for Cook than less for Eifert — all things being considered.
Instead of paying $7 million in 2019 to linebacker Sean Lee, for example, pay it to Cook and make the offense as dangerous as the defense.
__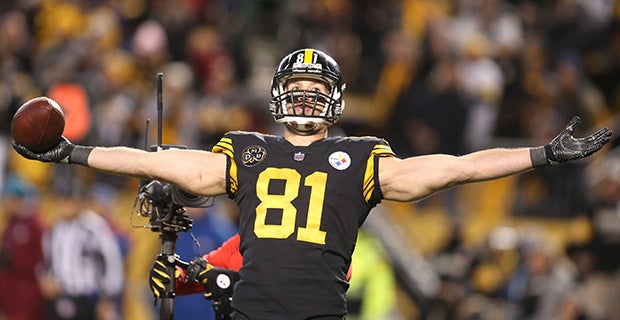 Age at 2019 kickoff: 25
Height: 6″7″
Weight: 261 lbs
Returning from Injury: No
Pro Bowl Tally: 0
All-Pro Tally: 0
Stat Line:
__
Ah, the Cowboys do love themselves some young blood.
James is the youngest of this lot and also the tallest, ideally making him that much more of a red-zone weapon. His 76.9% catch percentage is also utterly insane, even if he doesn't have the resume of the others listed above. What he does have is better consistency than a few of them, however, and his stat line has seen steady increases across the board over the last three years of his initial NFL contract with the Steelers. James also has another attribute the others can't necessarily boast but it's one the Cowboys lust for openly in any tight end they might choose to bring onboard:
He's a damn good blocker.
This makes James a true dual-threat talent that can help open up lanes for Elliott on one play and then reel in a TD the next, creating a situation wherein the Cowboys would no longer need to concern themselves with carrying four TEs on their 53-man roster. Instead, they could shed Gathers and let James and Jarwin run TE1/TE2 with Schultz having another year to groom his NFL craft. James' youth also makes for the possibility of signing a longer deal, and that lessens the upfront salary cap hit by virtue of being able to spread any salary and guaranteed money out over a wider contractual playing field.
A rotation of James + Jarwin + Schultz is a very attractive one, mostly because it also swaps the idea of adding a bridge guy for the reality of bringing in proven production for the longterm that doesn't create regression on the third- and second-year talent.
That's a tasty dish, is what that is.